For the past few years, I have been maintaining online journals sharing the experiences I had with my F80 M3, 991 GT3, and my previous "Temporary Garage."  These journals chronicle my ownership experience from the ordering process and awaiting delivery to the continuous modifications and improvements I have done.  I thought it would be useful to aggregate all of my these posts into one central location.
Also if you are interested here are the links to my two 991 911 Carrera S Journals that I owned before moving on to the 991 GT3:
Rennlist
C2S Rennlist Journal
6SpeedOnline
6SpeedOnline C2S Journal
So to kick off the F80 M3 blog posts I will start with me and who I am. My name is Matt. I live in The Villages, FL, which is about an hour North West of Orlando. It's a massive retirement community, so as you might imagine it's densely populated with Buicks, Lincolns, and (for some reason) Mini-Vans. Since there are virtually no other nice cars around, these posts are an enjoyable outlet to share my obsession that is cars. The journal/blog post route seems to be the best way to chronicle my ridiculous ideas, modifications, etc. 
So here's the sob story. I grew up just outside of Pittsburgh, PA in a single-wide trailer to two very young, extremely hard-working parents. They sold that place in '93 for $9,000. My wheels and tires cost more than that on my E92 M3! I was very fortunate to get aid/loans/support from parents/scholarship and divine intervention to be able to attend and graduate from Villanova with a BSEE. As you'll see in the 911 Journals or from future posts here, my DNA is very much "Engineer." In other words, be ready for some detail!
As many of you cars guys/girls know, it is very hard to resist the urge to live life on a monthly payment. I've tried to take the natural progression of automobile upgrades and not just jump to the best. I started out as a Honda guy, working my way up through the ranks from the Civic Si with steps toward the S2000. I finally got and E92 M3 when I turned 30 and have worked my way to my ultimate dream of the perfection (for me) that is the 911. I'll do a post later on with photos of my past rides for those that care.
After what I classify as defying the odds and working rather hard, here I am today. I'm living the dream I always had. God, family, and the two childhood crush cars; the M3 & 911! Both will be in my garage at the same time! Which will I choose to drive each day when I head into my office? Only fate will decide!
Alright, enough gushing. Here is the car.
I placed my order on March 21st, 2014 with BMW of Ocala.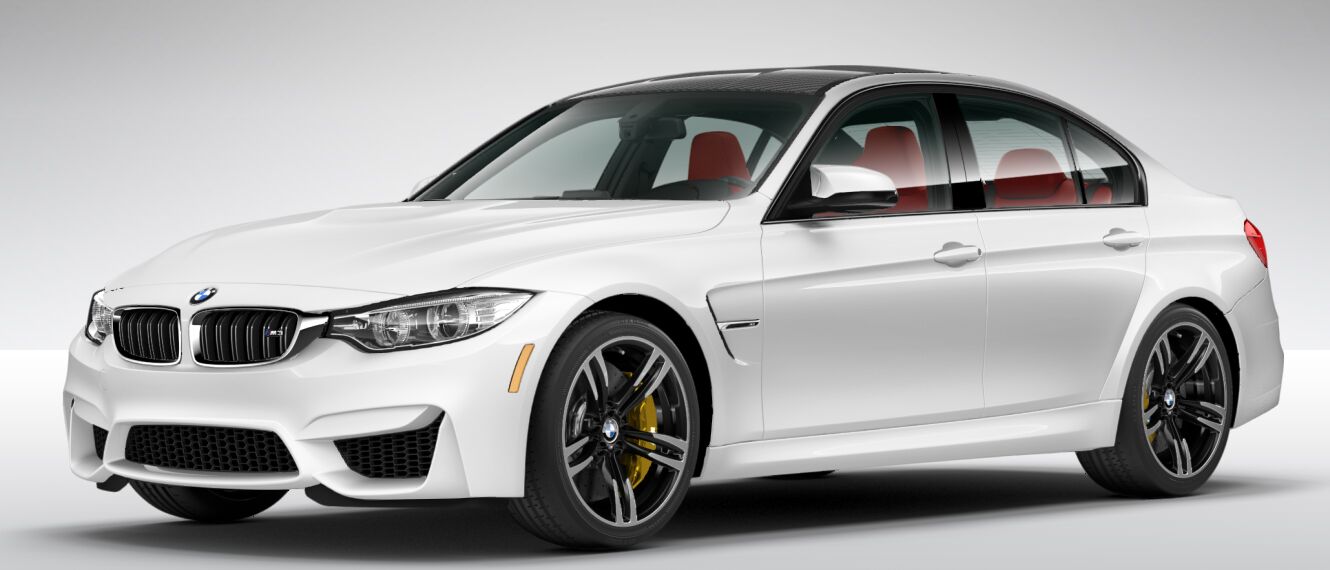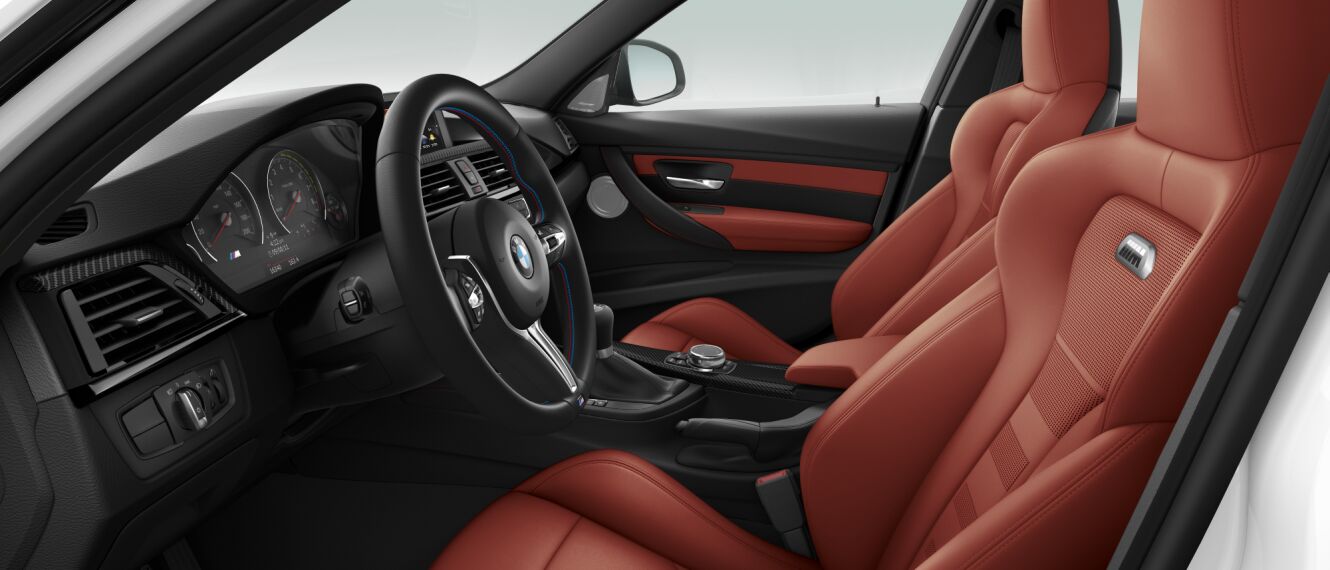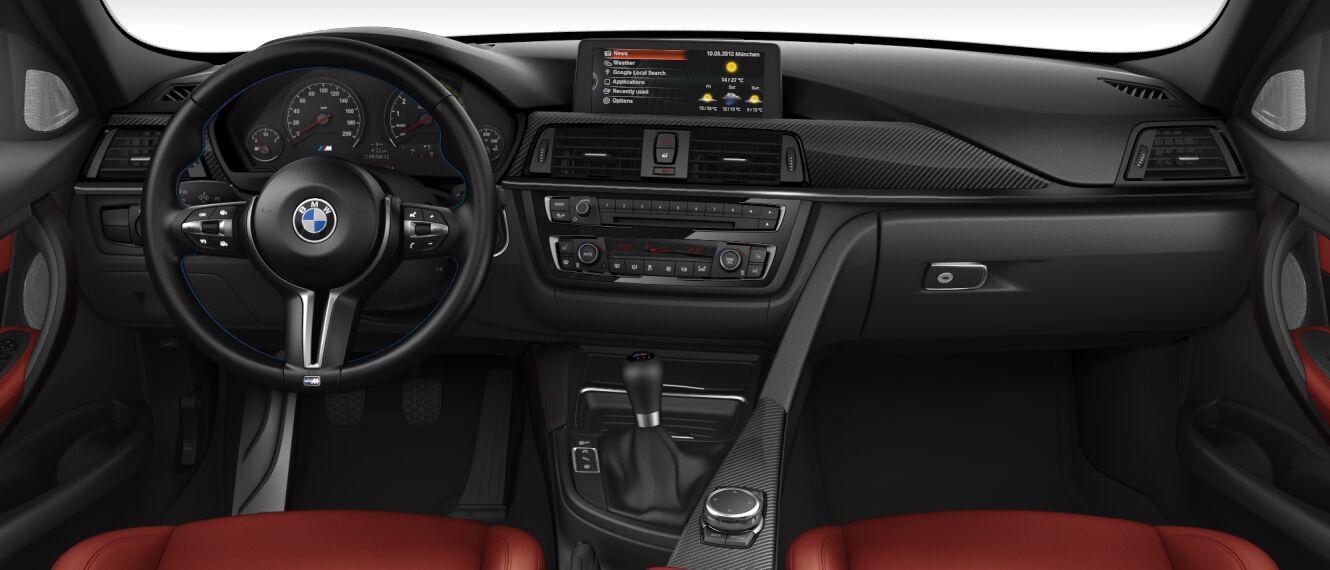 2015 M3 Sedan: $62,000
Mineral White Metallic: $550
Sakhir Orange/Black Extended Merino Leather: $950
Lighting Package: $1,900
19″ Black Light-Alloy Wheel Double-SpokeStyle 437M: $1,200
Adaptive M Suspension: $1,000
M Carbon Ceramic Brakes: $8,150
Manual Transmission: $0
Harman Kardon Surround Sound System: $875
Destination & Handling: $925
Total MSRP as Built: $77,550
I received $2,000 off MSRP: $75,550
My methodology behind the car build has changed quite a few times during the ordering/waiting process. I actually started out with a more basic car. I intended to lease the car due to having never driven it and it being a first year of a new model. Shortly after the reviews started coming out, I decided to go against my better judgement, buy the car, and order it the way I actually wanted. In the end, I added the Lighting Package, CCBs, and Adaptive Suspension.
My thoughts/opinions on options:
-My 911 at the time was already very similar to Alpine White, so I opted for Mineral to "change" it up a bit.
-I didn't get full leather for several reasons. The main reason was that I got it in my 911, and it's not something that wows me when I get in the car. Leather just doesn't get me that excited. My S4 did not have full leather, and I would classify it's interior as the best I've ever owned.
-I have chickened out on getting a white car many times in the past. The same for the interior. I always end up getting black. This time I pulled the trigger on Sakhir Orange. Now I had two white cars. At least one will have a cool looking interior color. I hope I don't regret it.
– Driver Assistance Plus/Executive Packages. I live in a rather rural area, don't parallel park, hate headlight washers, can't live with the terrible sound of satellite radio, live in FL no heated steering wheel, etc. Luckily that saves me tons of cash.
-LED lights. I don't care as much about the head lights as I do the angel eyes. They look so much better than the standard, so I got the package.
-Black Wheels. I'll probably go aftermarket, but I needed 19″ for the CCBs.
-Manual Transmission. I had DSG on my S4 and couldn't be more bored, so no paddles for me. Hopefully this manual is as good as they say it is, but I'm certain it won't touch the 911 or S2000. I just hope it's okay enough. It can't be much worse than the E92, so I'm not worried.
-M CCB. Very little dust, lighter weight, looks awesome, so I decided to waste my money.
-Convenience Options: Not my bag. I'm a man of simplicity and performance. These convenience options don't add anything to the car for me. Shoot, I wish I could opt out of Nav.
-HK. I added it. I'm sure I'm going to hate it. I'm planning on adding DynAudio drivers/Audison amp later on. We'll see. For $875, I figured it can't hurt anything other than my ears.
-Cameras. No thanks.
So, I'm super excited to get back into an M3 after trading my beloved E92 in for my 911. Stay tuned for more obnoxious posts. I hope my insanity might help others in their conquest.
Leave a comment