Now that my GT3 has arrived, it is time to get it "Dialed in!!"
I've been developing my car washing procedure for the better part of a decade. I'd like to say it's perfect, but I'm sure I'll continue to learn things. At that time I had yet to fully detail my GT3 but it had been washed it a few times.
I had to fill up some bottles before I got started. Since this was the first real wash I decided to use my heavy duty wheel cleaner just to be on the safe side. I used to use Sonax Full Effect Wheel cleaner, but I've recently switched to 1Z Einszett Colourtec. It smells much better actually builds a lather of suds when brushed. I know Sonax was working, but I never got the feeling of clean. So I made the switch. I used Griots bottle because I like the sprayers. I know everyone raves about Kwazar spray bottles. I've bought a bunch of them, but I don't like them.
Now I probably won't use them on the wheels much as both cars have Carbon Ceramic Brakes (CCBs). Have I mentioned how glorious CCBs are for the detailing fanatic? Most of the time I'll use good old Griot's Green Wheel Cleaner. It works well. There's no reason to waste the expensive stuff on wheels that aren't very dirty.
Next I needed to fill up the Rubber Cleaner for the tires. The dealership slopped some goopy, shiny crap all of the tires. That junk sprays the rear quarter panel with black stuff. I used a bunch of other stuff for the tires, but I like Griot's the best.
Little man is fired up to help wash his new favorite car. I always get his bike out to distract him, so he actually won't touch the car. Go ahead, call me a bad Dad. Maybe he can help when he turns 20.
Wheel Cleaning stuff is ready to go. Why do I love filling up bottles so much?
Next I have to get the foam canon ready. I love Adam's Car Shampoo. I used to buy the 5 gallon jug to save a few bucks, but I switched back to using a single gallons. It was a real pain trying to fill the little bottle with a 5 gallon monster jug. I kept dumping it all over the floor. This is an MTM Foam Cannon from Pressure Washer's Direct.
Using an Adam's funnel, I squirt about 3oz of Car Shampoo in the cannon bottle. There was some water/shampoo left over from my last wash. That isn't all soap in the photo. Just make three of four squirts into the bottle.
I've bought the boar's hair brushes and wool wash mitts, but I love the cheapo Adam's large wash sponge and Griot's bug mitt. I rarely need the bug mitt and didn't need it for this wash. I thought I might need it due to the car not being detail by yours truly yet. There was some kind of wax on the car.
I learned the trick from Adam's videos. Squirt a few ounces of soap directly on the sponge. You get more suds with less soap. Plus you don't have to worry about the soap shooting out of the bucket while your spraying the water into it.
I have to get the pressure washer out. The is an electric Kranzle 1122TST with a bunch of quick connects to make set-up and break down quick and easy. Check my Kranzle video. The connection hose is a pre-made 6 ft. hose from Eley Corp and an Eley quick connect on the hose bib.
http://youtu.be/5OVOeQL5Ogc]http://youtu.be/5OVOeQL5Ogc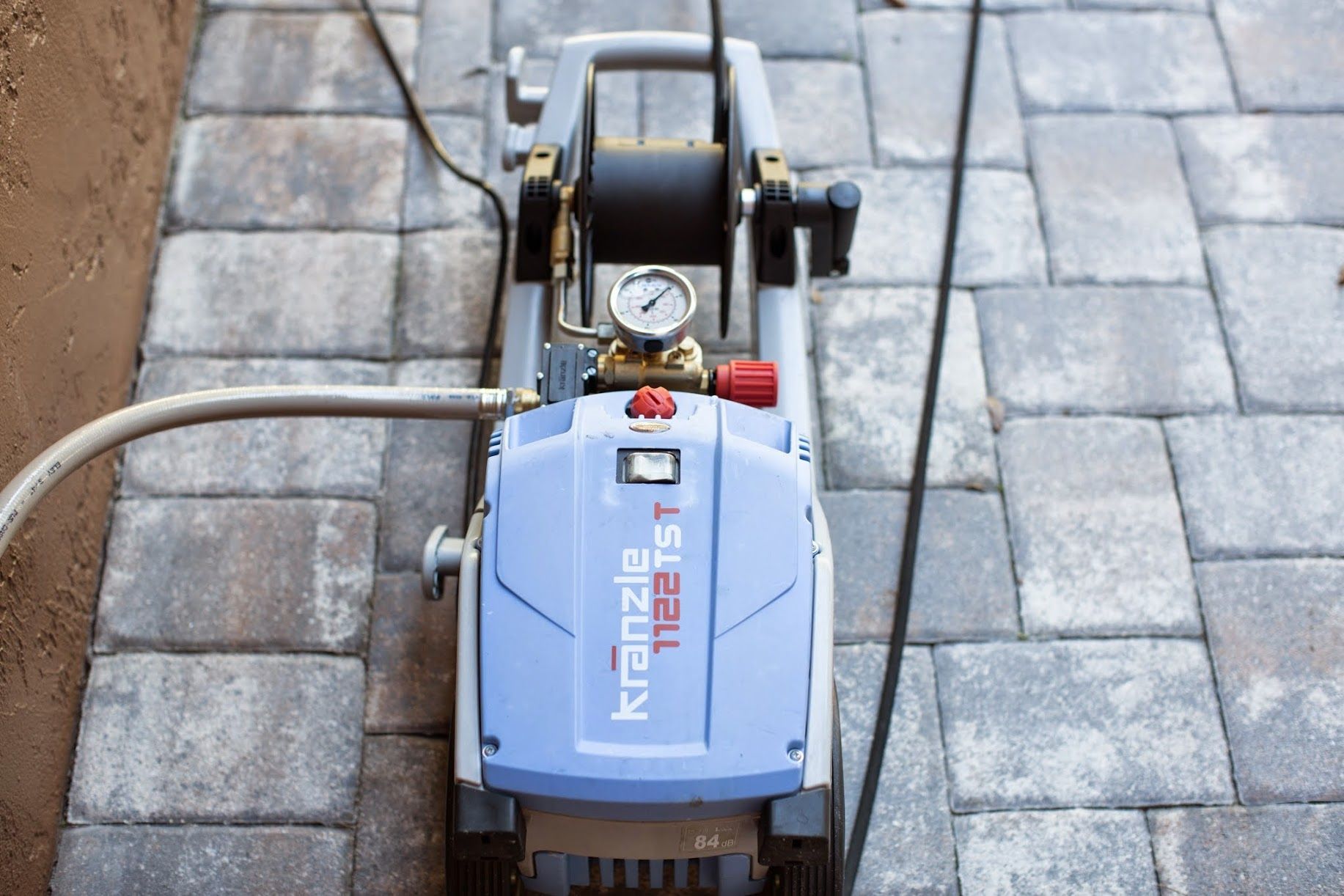 My hose is hidden down on the side of the house. This may be tough to swallow, but I think this set-up ran about $500. It's a GoodYear 3/4″ KinkFree professional hose that bought from Adam's when they were selling it, Eley Corp Rapid Reel, and Dramm Shut-off valve and Gilmour quick connect.
Back the car out. It wasn't too dirty, but I had some bug and goop all over the car from the tire gel they put on the car.
Little man is distracted. I told him he's not supposed to wash his bike in the sun. He disagreed.
Too bad I'm using a different wheel cleaner product in a Griot bottle. This pic looks like I'm in product sales.
My wheel cleaning bucket. I have an EZ detail brush, large Wheel Woolie, Adam's Angled Wheel Woolie, Griot's lamb skin mitt, and a Wheel Woolie lug nut brush all in a Generic Auto Geek grit guard bucket. I don't actually fill the bucket with water. I just use to carry all of the stuff from wheel to wheel. The grit guard allow all of the stuff to dry overnight rather than getting all nasty.
Spray off the wheels with the pressure washer.
I pressure wash one wheel, spray with wheel cleaner and work my way around the car. By the time I get back to the first wheel, I'm ready to agitate them.
I also hit the tires with Rubber Cleaner to let it sit while I cleaned the wheels to get the goop off them. I normally don't need to spray on early. I usually just spray, rub, rinse.
I also hit the trail pipes with the pressure washer and spayed wheel cleaner on them.
I use the regular hose, holding it in one hand while cleaning up the wheels. Check out the video above.This is an Eley corp spray nozzle.
Clean up the wheels and tires.
I love this tire brush for for lowered cars. I think it a "Tuff shine" from Auto Geek.
After the wheels, tires, and exhaust are cleaned up; I spray down the entire car prior to foaming.
Quick connects make switch to the foam cannon super easy.
I love foam!
While the foam is running off the car and pulling/loosening the dirt, I fill up the dual Grit Guard Buckets.
Wash the car using the two bucket method. Start at the top and work my way down.
After washing entire car prior to rinsing. Keep in mind that a quality car soap is pH balanced. You are better letting soapy water dry on the car rather than clean water. I have a nice shady spot and you shouldn't wash in the sun, but don't spray the soap off until you're ready to dry.
I always spray off with a pressure washer than using the sheeting method to get most of the water off the car.
Next, I blow off the car, wheels, etc with gas powered leaf blower. This get all of the water out of the cracks and gets it 95% dry.
Then I pull the car into the garage and use Adam's detail spray to get it completely clean. I spray a few wet panels with a mist of detail spray and wipe gently with an Adam's Great Water Waffle Weave microfiber towel.
I dry off the wheels and tires with my old Griot's large car drying towels. I've had these for years.
Get all of the door, trunk, hood jams.
I pull the leash off of every car I own to avoid accidentally leaving the cap off and having it smack the paint.
I have a crappy two car garage, but a least I have a shady spot to wash my car even in the middle of the day.
This is how you know I'm insane. I cut all of the rubber knobbies off the tires.
I love this stuff. I switched from Adam's Super VRT to CarPro Pearl from a forum member's suggestion. It is the best stuff to use on tires I've ever used. I use and Adam's foam block to apply.
Wipe off the excess.
The whole "swirl-free" process usually takes about two hours.
Leave a comment