Disclaimer:  All you purists better hurry up and click the back button immediately!
I've been planning this for a while.  I was inspired by Joe Rogan's 997 GT3 RS system that has Audison/Illusion Audio.  I was planning to upgrade the front stage and have a box like this built.
I took a trip down to the big city to talk "The" guys in town about building a system like this. I did my typical research and decided I wanted Audison Bit 1, Audison AV5.1k, Hertz Mille.  What I learned is that a system of this level designed and installed by a pro was going to cost way more than I was willing to spend, like $12-$15K.  The equipment is like $4-$5 grand and the rest was an open ended labor cost.  I wasn't into that.  So I decided to scrap the idea.
Then I saw a post from another forum member that had an install done with DynAudio.  Dyn is by-far my favorite driver manufacturer.  I have them in my garage and have had them in my IASCA Pro SQ car that I built.  I didn't even consider them because I thought the tweeter was way to big to fit in the dash.  To my surprise Sound in Motion (SIM) in Boston figured it out.
My ears favor good ole' fashion soft dome tweeters. I don't dislike all metal dome or ribbon produced high frequencies, but me and Dyn are just meant to be. *So now my pursuit to get DynAudio began.
I sent the guy with the system a PM on Rennlist.  He didn't know much about it other than the system sounded freaking awesome!  He suggested I check Sound Motion's Facebook page for updates.  After a week or so I found it.
The system was exactly what I wanted.  There was only one problem.  They are in 1,500 miles away!  So my crazy brain started turning.  I don't have any fabrication skills, but I know how to use a screw driver and a ratchet.  I decided, "Why not reach out to SIM to talk about making a turn-key DIY system?"
When I first got Jim on the phone I think he thought I was crazy.  I attempted to explain what I wanted to accomplish:
I want them to make me trim rings for the Dyn drivers.
I wanted his opinion on their amazing passenger footwell sub enclosure. *I was sold in minutes.
I wondered if they could make a wiring harness with a diagram on what wires get connected to what.
Pre-Tune the Mosconi DSP, and set it as ready to go as possible.
Fabricate Amp and crossover/processor racks
Can we do this without drilling, cutting, or modifying?
I wanted the system to be modular and easily reverted back to stock.
I didn't want add a ton of weight.
Etc.
After some convincing and explaining that I have some experience with installation and know how to use a ratchet, he started to process my requests.  Jim asked if he could have some time to think about.  A day later he sent me my proposed invoice.  He talked to the install team and decided this was very doable, so over the course of a month or so we hashed out the details.  After some back-and-forth on my part and changing my mind from three way to two way about five times, we came to a resolution, price, and equipment.
So here was the plan:
Front Stage – DynAudio Esotec 242 System (2-way system with 6" woofer and 1" silk dome tweeter)
Disconnect Factory Center Channel, 3" Mids in the doors, and 3" Mids in the Rears
Amp – Genesis Series III Four Channel
DSP – Mosconi Processor
Factory PCM Head Unit
Here is the invoice:
Obviously, this is an expensive option.  The cost of things like the box and the amp rack are based on labor rates, but the equipment could be upgrade or downgrade able.  I would guess you could get this down to a little less than $5,000 if you used lower end equipment.  You could consider doing a 5 channel amp and actively power the separates.  You could also have them configure a three way system with 8s in the doors.  It put me up into cost territory that I wasn't prepared to enter although I really wanted 8s in the doors actively powered.
Jim politely suggested I make my decision as they had another 991 GT3 coming in for a similar system.  That way they could make my brackets, sub enclosure, amp rack, wiring harness, etc when they had that car available.  So I gave them the "go" signal, and they were off to production.
Building/prepping everything took about a month.  They want to make sure they had everything right and ready to install.  Once I got the call from Jim that everything was ready to ship, I decided to pull prep the car for the install.
Here is the video:
I'm still amazed at how easily this car comes apart and then goes back together just like it should.  I've owned other cars and have taken them apart.  Most of the time I would break panels or tabs and things never seemed to go back the way they came apart.  I guess we should expect this on such an expensive car, but I was shocked by it.
I started up front with the front trunk.  Remember that I don't have an instruction manual for this.  So I'm learning I go.
It was really easy to take apart.  Start with removing the battery cover.
I'm probably going to have to ditch the liner.  I may cut out a section of it out, but I'm sure I hack it up trying.  I may just sell it.
Remove all of the trim pieces and weather stripping.
Pop the carpet out after removing the safety trunk release lever.  It the only screw that needs to be removed.
Next up is the door panels.  I was worried about this part, but it was super easy.  I found some instructions on the Caymen forum.  Pop off a few panels, remove four bolts, and it comes off by lifting the door panel straight up toward the window.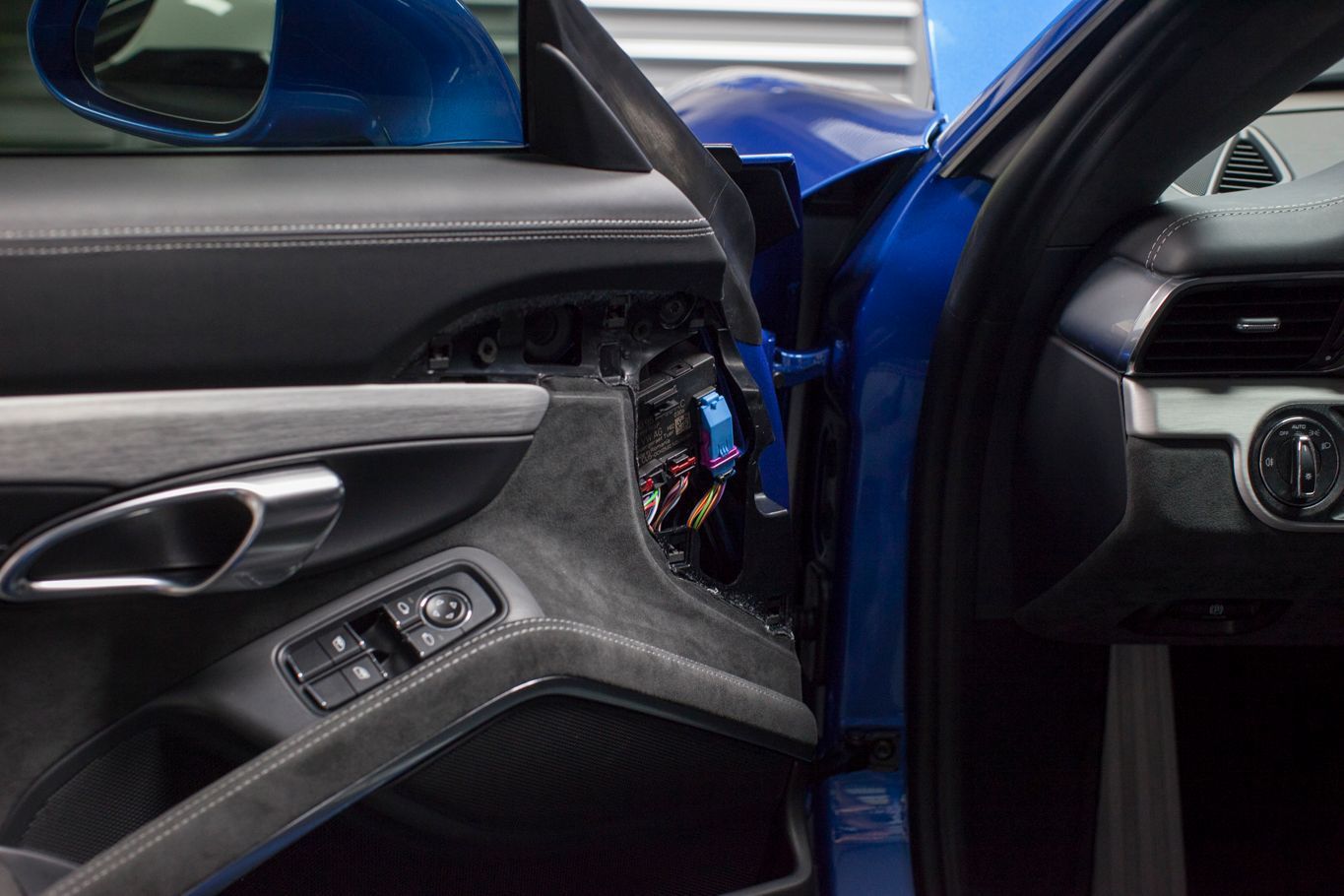 I didn't realize the factory woofer was a 7″.  I knew about the crappy little three inch midrange.  I planned on leaving the midrange.  I thought there would be a hole in the vapor barrier.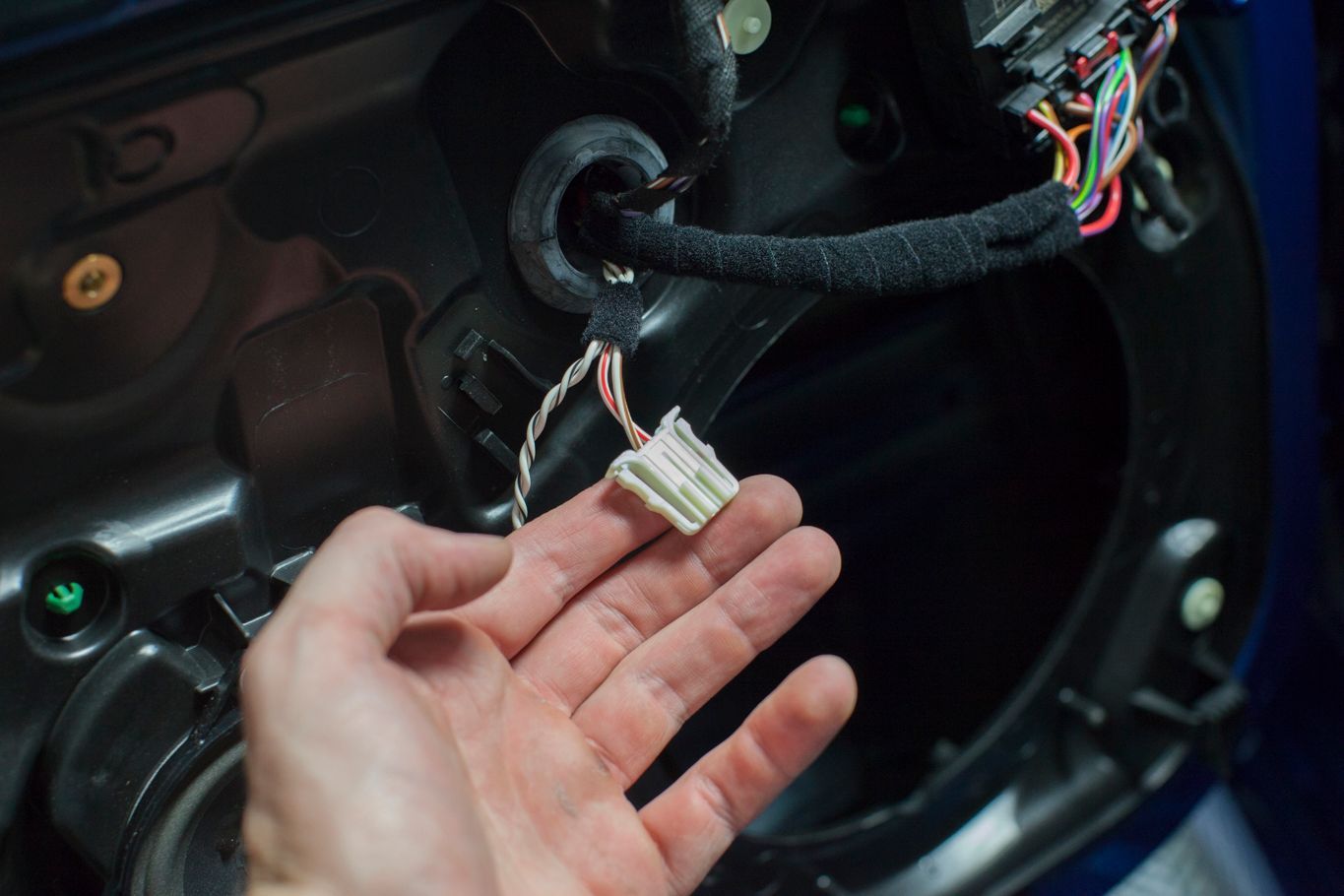 Next up was the tweeter removal.  I thought this would take 30 seconds.  You have to pull like crazy to get the covers off.
We need to pull the seat out to get to the factory amp.  The seat is super easy to get out.  Remove the fire extinguisher, little plastic covers on the front of the rails, and then remove E12 reverse torx.
This is where the power and ground come into the amp, and it's where the speaker wire exits.  Take a breath, we will cut this later.
The smaller molex plug is the low-level (or not amplified signal) from the factory PCM head-unit.  This where we will grab the signal for the Mosconi processor to do it's thing.
The sad new for my weight gains calculations is that the factory amp weighs like a pound and a half.  It is shockingly light.
Factory Side Airbag
I needed to take the center console apart to get to the lighter where the sub control will be mounted.
I figured out that the the mids are in a little sealed pocket in the vapor barrier.  So I yanked them out.  I also figured out that the mid and tweeter are wired together somehow.  We will just zip tie that wire and leave it.